Winterize your outdoor living space with these tips
Tips to winterize your outdoor living space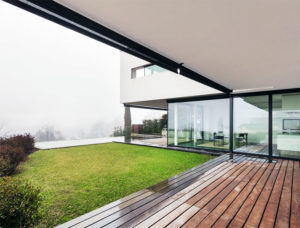 After the summer solstice, the days in the north Texas area start getting shorter. Something in the air changes. Temperatures can still reach scorching highs, but now they have a deadline. You will notice more leaves on the lawn, and you may not be hanging out as late in your outdoor living space.
If you're not the type to be scared away by colder temperatures, then there are plenty of ways to make your outdoor living space usable in the winter. Combat cabin fever and enjoy the crisp, fresh air by winterizing your space with these tips from Fallas Landscape.
Lighting
Before the real chills set in, the days become shorter. To extend your evenings in your outdoor living space, try some light fixtures. Use lighting to line paths and illuminate social areas. Hang lights around your outdoor kitchen, or even set up some torches. With all those leaves starting to pile up, you'll have good starting material for a fire in your firepit or chiminea. Whatever you decide, use lighting to make your spaces appear warmer and more inviting.
Heating
Depending on the style of your outdoor living space, heating may be difficult. Fire pits are, of course, very useful for warming the toes of you and your guests. They also give you the opportunity to enjoy some s'mores, and what's more warming than enjoying a chewy, melty s'mores in the company of good friends? But fire pits aren't the only option. Outdoor rugs can block drafts and airflow from between deck boards, and keep thick blankets around lets you and your guests huddle up underneath for extra warmth.
Greens
You'll likely have to move your plants inside for the season, but if you want to replace the greenery outside, you can pot some evergreens and ivy. These may not provide the bright pop of your springtime plants, but they'll help liven the space up and give the outdoor living space a more inviting appeal.
Take Precautions
This one might be a no-brainer, but the cold winter is going to pose issues for your water features and potentially your furniture. Cover your water features and let them lie dormant for the season. You will want to make sure your furniture can withstand whatever the colder seasons may bring, too, which may mean investing in covers or just moving your furniture inside. You may be roasting marshmallows in camping chairs, but you will still be able to enjoy your outdoor living space.
Protect your Outdoor Living Space with Fallas Landscape
Fallas Landscape has been helping the North Texas area realize its landscape design dreams for over 20 years, so they have the experience and knowledge to help you get the most out of your outdoor living space year round. For help with lighting, heating, or advice on keeping your water features safe through a freeze, give Fallas Landscape a call.
To find out more about Fallas Landscape LTD go to https://www.fallaslandscape.com or connect with us on https://www.facebook.com/fallaslandscape/