Fallas Landscape Design Dallas
The Premier Dallas Landscaping and Lawn Care Company
Your current landscaping thanks your future contemporary landscaping in advance
Your new contemporary landscaping: imminent.
Your current landscape design… let's just say it's in need of some company.
But not just any company, for you – the best company.
And when we're talking Dallas landscapers, that's exactly who we are.
Just to be clear, however, we don't claim to be the best Dallas landscaper you'll find, it's simply who our customers have made us be. And it shows.
So don't take our word for it, these are real Dallas landscapes tucked carefully into neighborhoods all around by customers who were once just like you.
And although the sprawling examples of contemporary and luxury landscaping seen here are without question beautiful, contrary to popular belief, your favorite of them isn't nearly as impressive as what you'll finally experience once you get your very own taste of Dallas landscape architecture.
You deserve that, and we hope to give it to you.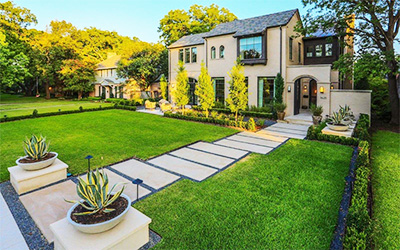 You see, we're not your traditional Dallas landscaper
And when it comes to landscape design in Dallas, Texas, we've seen everything out there (unless of course, we built it first) – which is usually the case.
But that's not important at the moment.
What is important to us, however, is you.
Your needs.
Not just what you expect from landscape architecture in general, but how it has to come together in a way to make you feel something truly amazing.
To us, what we build is just as important as how we build it.
And how it's done includes you every step of the way.
We're more considerate than just focusing on how you want your landscape design to look. We want to build your luxury landscape to shape the way you want to feel. To shape the way it makes your family, friends, and company feel.
That's what we do.
We're not just a landscape design company either
We deliver the perfect feeling and environment to you in the comfort of your very own home. We make your home a haven.
Not convinced? Picture this for instance…
Maybe you want to wake on Sunday mornings and pass through your French doors out to the feeling of your favorite French café patio with warmlatte in-hand while tasting a politely plated crepe.
Just imagine enjoying a breakfast like that while savoring your very own secluded space. You can have those feelings, that exact moment, each time you escape to your very own luxury landscape.
We want to bring that to you.
Or… maybe some afternoons you could be enjoying a refreshing Aperol Spritz revisiting your favorite Italian mountainside fragrances along with your still steaming beef bolognese, surrounded by lush greenery circling your luxurious patio of course.
You don't have to actually be anywhere to feel like you're exactly where you want to be.
Let us bring those feelings to you.
Whatever your desire, no matter how robust the space by way of excess effort and creativity we are committed to making your home a happier place.
There's really no way around it.
And it's worth it because it's what we want for you.
But once you have the perfect environment to complete your home in the way you've always wanted, the fun really begins. And it can take rare forms as eventually word will spread and your new contemporary landscape hideaway will be craved by everyone who knows you.
The effects aren't exclusive to any one landscaping design setting in particular, but they usually include more neighbors dropping by bearing gifts in the form of treats on plates or even Rosé.
Which of course, you'll be obligated to consume while entertaining your company from within your newly lavish landscape.
It's a harmless side-effect but an effect nonetheless. And that's what we love about what we do for clients like you.
But we do it most of all because we want you to know what true Dallas landscaping design should be.
We want you to feel the passion we feel in doing the work that brings you the joy of living in your perfectly tucked away space for all your remaining days.
And if home is truly where the heart is then once you've worked with us, you've arrived.
We put our heart and soul into each project and bring dreams to life one at a time.
Each one is personal and different for everyone. And that's where we stand out from other Dallas landscapers in particular.
We don't build yards, we build experiences to be remembered until there's no looking back. We build moments, we build memories, and we do it all in unforgettable settings.
For some, it's lush gardens and winding vines.
For others, it's a layout or design to bring a charming gaze or help city sounds to fade away.
Regardless of what you desire you're sure to have a comfortable place to take more ticks of time for yourself. A place to make the little joys in life slightly sweeter.
That's what we do, and we do it for you.
Be sure to contact us to learn more about how we can personalize an experience for you, whatever the mood.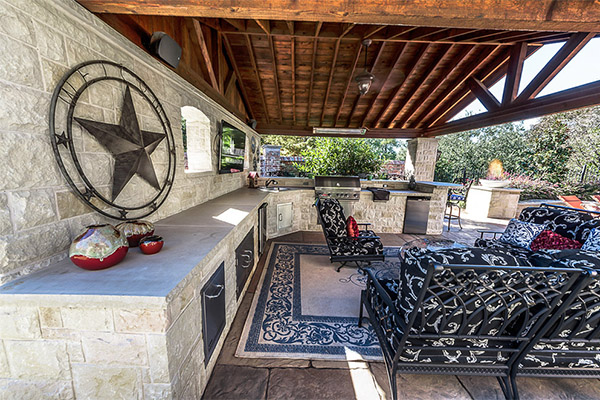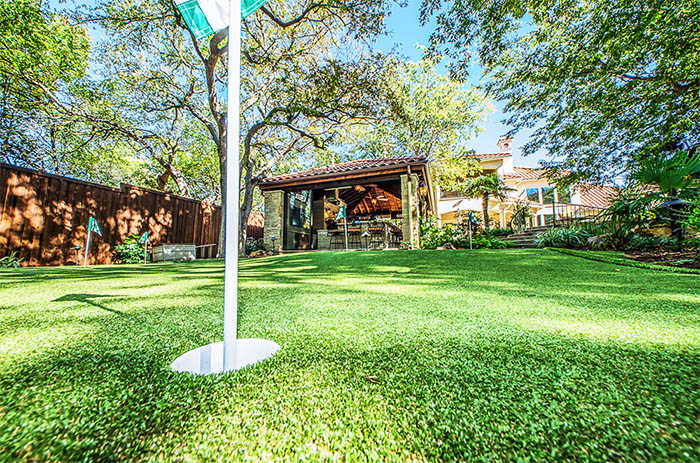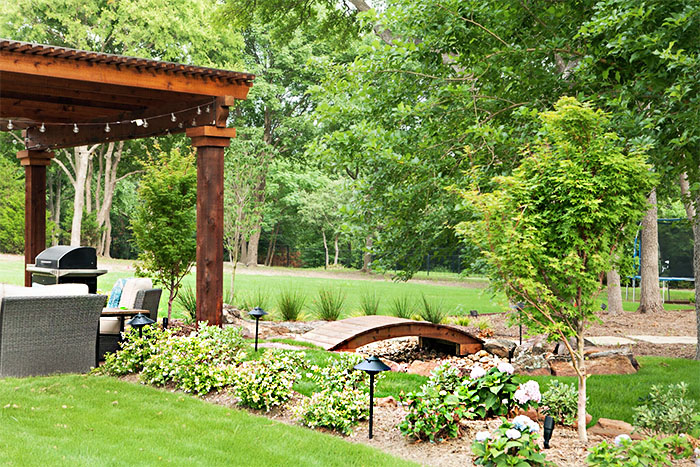 CREATIVE STONEWORK
OUTDOOR KITCHENS & FIREPLACES
WATER FEATURES
ARBORS
DECKS & FENCES
RETAINING WALLS
IRRIGATION
OUTDOOR LIGHTING
COMPLETE LAWN MAINTENANCE
Dallas Lawn Maintenance and Lawn Care
We can't leave out our premier lawn maintenance and lawn mowing service. Once you have the outdoor scape that you have always desired, you want to continue to show it off. We can help any lawn look great with our full-service lawn care service. We perform all services including, mowing, weeding, tree/shrub trimming and mulching. We also can help your flower beds look gorgeous.
We Offer Some of the Finest Landscape Lighting in Dallas
And don't forget. We're not just for the day crowd. In fact, outdoor lighting just so happens to be one of our favorite specialties.
From softly lit scenes to a variety of ambient effects we're the brightest solution for Dallas landscape lighting.
And again as with all that we do, if you can dream it, we can build it.
The only concern is this…
It's likely once you have your new contemporary landscaping in place with customized landscape lighting you'll want to spend all your time in your new environment and not as much time inside the house as you used to.
Perfectly understandable but please don't forget, you'll need to get some sleep sometime.
So at the end of a nice relaxing day in your new favorite space be sure to turn out the lights, or don't… either way works beautifully.The best part is you'll get to experience it all over again each and every day.But again… please, don't forget to sleep.

Inspired to enhance outdoor living