Very little in this world feels as comforting and relaxing as spending quality time outdoors when the weather is fine. Because we live in such a busy world, many of us find it difficult to carve out time to go to the park. Others of us just prefer private outdoor time for quiet reflection or get-togethers with close friends and family. If you fall into either one of these groups, you have probably considered adding outdoor living spaces to your property.
What amenities can I incorporate?
Depending on the outdoor living spaces you have in mind, you can incorporate all different kinds of amenities. Many people opt for an outdoor kitchen to host barbecues and large family gatherings. The landscaping team at Fallas Landscape can easily create a space that accommodates most kitchen appliances. We can install a stove, a grill, an oven (traditional or brick), or even a wok station. If you're thinking more along the lines of an outdoor space to relax in, we can add a fireplace, outdoor couches, a bar, and flat screen televisions. You are only limited by your imagination. If you want us to provide the appliances, we can do so. If you already have what you need, then that's great, too!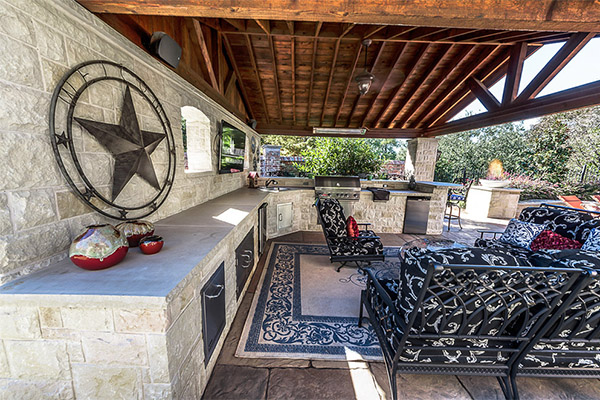 CREATIVE STONEWORK
OUTDOOR KITCHENS & FIREPLACES
WATER FEATURES
ARBORS
DECKS & FENCES
RETAINING WALLS
IRRIGATION
OUTDOOR LIGHTING
COMPLETE LAWN MAINTENANCE
What are outdoor living spaces?
Outdoor living spaces are additions to your living space taken outside. They tend to have pergolas or roofs and some walls, but they still have a lot of open-air spaces. Often simple outdoor living spaces take the form of a gazebo, a stonework patio surrounding a pool, or a hanging chair inside an arbor. These are all spaces designed to let you enjoy the natural world and beauty of your lawn without forsaking the privacy your home provides. Some outdoor areas incorporate beautiful water features and many outdoor living spaces include kitchens with grills or other electronic appliances, too.
How durable are outdoor living spaces?
At Fallas Landscape, we specialize in stonework spaces. Unless you prefer something different, we build your patio and the structure of your living space with stone or brick. The pergola or roof, of course, is made of wood, but we use only the highest-quality products. Our outdoor spaces, with general maintenance, will last as long as your home. They will provide countless hours of joy and relaxation during that time.
Choose Fallas Landscape for your landscaping needs
No landscaping idea is too big or too small for Fallas Landscape to tackle. We do it all, from lawn maintenance to landscape design to outdoor kitchens. If you need it and it's outdoors, we can do it. Contact Fallas Landscape today.

Inspired to enhance outdoor living