Your backyard, lawn, or courtyard will never look the same once the Fallas Landscape team incorporates landscaping architecture. By balancing the natural world and human design, landscaping architecture brings environments to life with perfect personality. A landscape architect must understand the lay of the land, your vision, and the best ways to improve your space. Then, the team at Fallas Landscape will conceptualize and design the perfect blend of living space and nature for your needs. Once we get a perfect balance, we break ground and start working on making your dream a reality.
Common types of landscaping architecture
Not all of our clients want the same landscape. No two lawns, courtyards, or plots of land present the same opportunities for landscaping architecture. Our professional team works with you to realize your goals, but there are recurring themes in private landscaping. Many clients come to us with visions of outdoor patios surrounding a new swimming pool. Others wish to incorporate a beautiful outdoor kitchen and living spaces. If you just want lovely arbors and stonework paths through your garden, we see that a lot, too. A perfectly landscaped pergola really takes you into the natural world in a beautiful way. Aside from arbors, pergolas, and outdoor living spaces, we see quite a few stonework patios, trellises, gazebos, and privacy screens.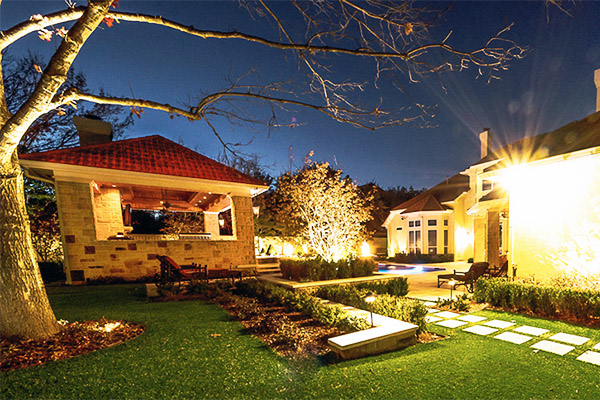 CREATIVE STONEWORK
OUTDOOR KITCHENS & FIREPLACES
WATER FEATURES
ARBORS
DECKS & FENCES
RETAINING WALLS
IRRIGATION
OUTDOOR LIGHTING
COMPLETE LAWN MAINTENANCE
Designing a theme for your garden or lawn
You don't just want one object plopped down in your lawn. If you reach out to the professional team at Fallas Landscape, you want to cultivate a relaxing and enchanting environment in your lawn. After you give us a sense of your vision, we run with it and create a design based on your needs and based on the lay of the land. We offer landscaping and design landscaping architecture based on a central theme because we believe your entire landscape works together to create one harmonic environment. Don't worry. You don't need to have a theme in mind. We work with you to help you discover exactly what you want, then we execute on your intentions.
Landscaping architecture & durability
We deal with only the highest-quality arbors, pergolas, and other products. When you choose landscape design from the Fallas team, you get structures built to last. We construct a lot of stonework patios and stone outdoor living spaces, so you know they will last a long time. The Fallas Landscape team builds everything to last.
Come to Fallas Landscape for outdoor architecture
If you want your vision made a reality, then you want Fallas Landscape to take care of all your landscaping architecture needs. We work with you every step of the way to realize your visions. It's your space. Now make it your own. Contact Fallas Landscape today to find out what we can do for you.

Inspired to enhance outdoor living