Getting Started with Fallas Landscape
Most homeowners delay home improvement projects and miss out on the enjoyment and memories they could've had. Maybe you thought about installing a pool or a brand new BBQ pit but just kept putting it off. It's normal to hesitate, especially when we venture into unknown projects, and even more so when it's on our own homes. Before you even begin to research having work done on your house, you find yourself worrying about the time, cost and stress that can potentially result from a big project. That's where Fallas Landscape can help.
Driven by creativity
At Fallas Landscape, we thrive on creativity and coming up with new ideas. We've walked through the process with many customers over the years, collaborating with homeowners on big changes to their personal living space. Through this experience, we've learned what really matters to you and will help establish a sound, manageable budget that will reap the biggest reward, and at the same time improve your property value. Fallas Landscape specializes in custom planning, not cookie-cutter products. We don't want your new stonework patio, outdoor kitchen or outdoor living area to look like it came from a flat-pack box any more than you do. This is why our craftsmanship is superior – because we take pride in creating one-of-a-kind outdoor spaces that enhance your property. Making something that really stands out is a challenge and every job we get gives us a new benchmark to strive for.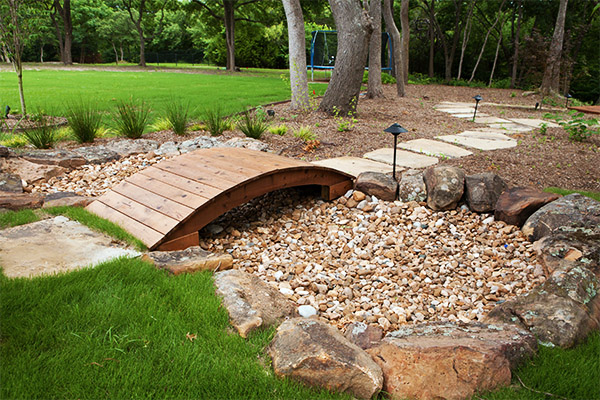 CREATIVE STONEWORK
OUTDOOR KITCHENS & FIREPLACES
WATER FEATURES
ARBORS
DECKS & FENCES
RETAINING WALLS
IRRIGATION
OUTDOOR LIGHTING
COMPLETE LAWN MAINTENANCE
Collaborative customer care
If you're new to landscape design, landscaping architecture or even just general home improvement, Fallas Landscape has got your back. We can help you come up with new ideas about how you want your outdoor living space to look and what best suits your budget, without leaving you bewildered. Even if you've got a little bit more experience and you know a square-mouth shovel from a round-mouth shovel, we can still help. Collaborating with savvy customers on ambitious home landscaping projects just means a greater, more rewarding challenge for our pros.
Contact Fallas Landscape and get started
If you're looking to start on some extensive home improvements and want to add character and life to your property – or even if you just need reliable, professional lawn maintenance, you can depend on Fallas Landscape. Take a look at the different services that we offer and call our friendly staff anytime at 972.517.5296. You can also send an inquiry to info@fallaslandscape.com. Whatever your plans, whatever your ideas, we want to help you get started. Visit our other locations- Dallas Landscaping, and Landscaping Plano.

Inspired to enhance outdoor living