Most homeowners, especially those with young families, like the idea of separating their property from those of their neighbors. If you need a distinct border between your lawn and your neighbors', then fence installation might prove the right choice for you. If you have considered a new or replacement fence installation for some time but hesitated to get started, then you should give Fallas Landscape a call. The Fallas Landscape team can handle the permitting, demolition and construction of wood, wrought iron, brick or stone fences. Continue reading to have some of your concerns and questions answered.
Common fence installation questions
Most people have very little experience with fence installation, and we get a lot of common questions and concerns. The first question we get is about maintenance. People wonder how much work they need to put into their fences once we've installed them. This varies a lot depending on the type of fence you choose, but most wood fences need regular sanding and staining every few years. Other common questions: Q: How long will it take to install my fence? A: This depends on the type of fence you need, but we can typically finish a wood fence in three days. After any required permitting, it generally takes one day to set the posts in cement and two days to complete the wood construction. Q: How much will my fence cost? A: The cost of your fence depends on so many factors. We'll be sure to give you an estimate once you've spoken to us! Q: How long will my fence last? A: Our wood fences often last for 10 to 15 years if they are well maintained. Wrought iron fences can last a lifetime but need to be painted frequently to prevent rust.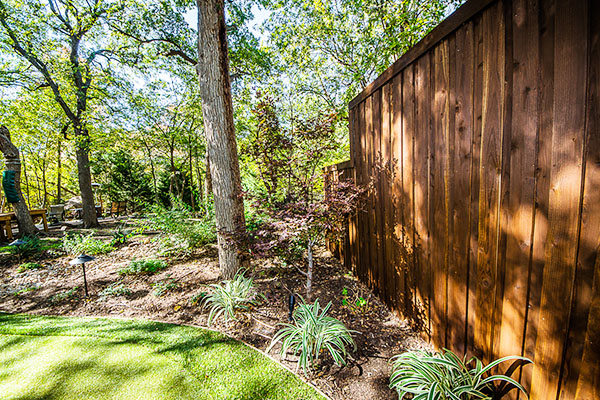 CREATIVE STONEWORK
OUTDOOR KITCHENS & FIREPLACES
WATER FEATURES
ARBORS
DECKS & FENCES
RETAINING WALLS
IRRIGATION
OUTDOOR LIGHTING
COMPLETE LAWN MAINTENANCE
Reasons for fence installation
Most Americans consider themselves private. Culturally, Americans are accustomed to more personal space than people from many other regions of the world. This often extends past our bodies and into the space we call our own. Most of us don't like the idea of strangers or even neighbors passing through our yards. Fences give more privacy. Though many people think of privacy when they think of fence installation, fences do more than just protect our personal space from noisy neighbors or playing kids. Fences also keep out wild animals and protect your landscaping. A beautiful fence, whether a white-picket fence or a large privacy fence, will also improve the value of your property.
Choosing the right type of fence
With so many different fencing options out there, you may find it difficult to decide which fence you should choose for your lawn. Different fences add character to your home in different ways. Many homeowners choose a board-on-board wood fence for privacy because wood lasts a long time and offers a complete visual block. Wrought Iron fences look nice and last forever, but they don't give you the privacy of a wooden fence. They often look the most attractive and ornate of all fences, but owning a wrought iron fence takes some dedication. Upkeep in the form of rust prevention can be time-consuming or an added expense. Bamboo fencing continues to grow in popularity. Bamboo fences can be planted, so they are by far the greenest option of all, but bamboo can get out of control and become invasive.
Why choose Fallas Landscape for fence installation
Fallas Landscape is the place to go for fence installation. Whether you love the aesthetic of a wrought iron fence or just want a little privacy, we have the fence for you. Check out Fallas Landscape today and improve your lawn with a beautiful fence.

Inspired to enhance outdoor living