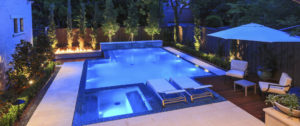 Outdoor lighting has come a long way in recent years.  Gone are the days of the good 'ole Mercury light and that was all you saw.  There are now all kinds of ways to light up your yard and such beautiful ways as well.  And, these lights are not going to break the bank as many are low power led lights.  Often times lights are solar-powered, so they literally take no energy at all.
The types of outdoor lighting
There are many options for outdoor lighting.  When shopping you should keep in mind the expectation of the lighting.  There is lighting for security, ambient lighting, and lighting used to complement your home's exterior.
Security lighting is just that, illuminating the area to make it more secure.  Most of the time these types of lights are on a motion sensor, so they are not always on.  They are made to come on when it detects motion from an object large enough to be a human.  These will often time be in the form of a floodlight and will be very bright, which will scare off people that shouldn't be on the property.  These can be mounted just about anywhere on the property but will require electricity to be run to them.
Ambiance lighting is great for those that entertain.  Ambiance lighting is lighting that will set the mood in your favorite outdoor space.  Often times it is string lighting or dimmer lamps.  It allows the guests to see each other and what is going on with having bright lighting.  These could be in the electrical form or in solar form.  Depending on the design and needs.
Complimentary Outdoor Lighting
Lights that complement the home's style come in a variety of forms.  There are spotlights that may shine on the front of the home to lighten up an area and solar lights that could be on the garden's edge.  And, check out the low voltage lighting as an option to light up the pathways or put a spotlight on a tree or garden.  There are string lights that could line a fence or go over a porch area.  So many decorative lighting options to choose from.
Outdoor sconces are quite popular and always have been.  These are the light near the doors and on the front of the garage that light the walkways and doorways.  Often, they are on a switch that can be turned on and off.  These come in a variety of finishes that complement the fixtures you find on the doors.  And, they also have many different design options to choose from, depending on the look that you might be going for.
There are many benefits to having outdoor lighting from decorative and curb appeal to security.  Let's go over the various types of lighting options, the design options and what their benefits might be.
Outdoor Lighting Design Options
There are various design options to choose from that complement the style of your home.  Okay, some lighting isn't meant to compliment the home, such as security floodlights but those should be tucks away or down below where they are not drawing attention to themselves.
Sconces are a fixture that most people have on their homes to light up the walkways and drive.  They come in various styles and designs and compliment the home's hardware.  These are a perfect example of different design options.
We have modern lights. These typically have clean lines and a brushed nickel look.  However, they do come in other metal tones as well.  Modern lights should not be put on a traditional looking home.  The idea is to have lights that complement the style of your home, not always necessarily your style.  So, keep that in mind.
Traditional lighting is a very popular option.   Homes with a traditional look will need this style of lighting.  This is quite a popular style and again comes in all kinds of finishes to match the home's hardware.  This style is the style of barn lights or lantern lights, for example.
More Outdoor Lighting Designs
Coastal lighting is lighting that you would expect to see around water.  As lake life becomes popular, we are seeing coastal lighting being a trend.  Coastal lighting typically is very clean and crisp looking.
Cottage or Country outdoor lighting is a look as well.  This is almost a combination of coastal lighting and traditional lighting.  The lights give a very homey feel to them.
There is the Rustic or Lodge outdoor lighting that typically has a more masculine look or feel to it.  This is lighting you might expect to see on a log style home or cabin.  There are many great rustic lightings that has a modern twist about them as well.
More Benefits of Outdoor Lighting
There are far more lighting options, but the overall benefits of the lighting are to create a nice look or curb appeal for the home in many of the sconce style lighting.  They are both attractive and useful at the same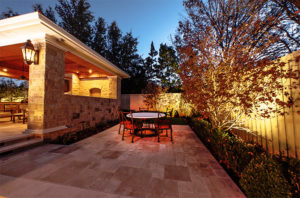 time.
Many of these lights can be set up with dusk to dawn lighting.  This lighting is any of the options above but set up on a photosensor.  This photosensor adjusts to the ambient lighting around it.  This helps keep the lights dim at dusk but becomes brighter as the darkness takes over.  This allows you to light up the area but save on energy costs as well, should the lighting use electricity.
Lighting up pathways, walkways and drives help people navigate the area and keep them from tripping or falling.  However, there are security lights that will illuminate the area and keep unwanted guests at bay.  If you have a security concern, there is nothing better than some flood lamps and cameras to ensure the safety of your home.  And, today, cameras and flood lamps are fairly inexpensive and certainly very easy to install.
Sconces offer a warm and inviting look but also light up the doorways for guests to be better seen.  And ambient lights are perfect to add to curb appeal as well as cut the darkness a bit but still offer that warm glow for you and your guests.
Contact us for all your outdoor lighting needs https://www.fallaslandscape.com/