Landscape Design: What water feature is right for you?
PICKING THE RIGHT WATER FEATURE: LANDSCAPE DESIGN ADVICE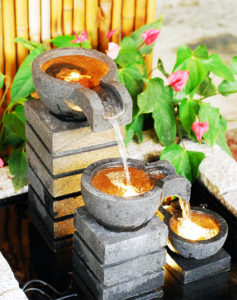 Water features such as fountains, ponds, and waterfalls are lovely additions to any landscape design. They give the outdoor living space an even greater natural feel, especially if they're integrated well with the flora around them. Ponds dotted with lily pads or unique pot fountains are not only aesthetically-pleasing – they are functional as well, providing necessary nourishment to your plants. But there are so many options when it comes to water features, which should you choose? Today, Fallas Landscape looks at some common water features used in landscape design and discusses how they might be the best fit for your outdoor living area.
FOUNTAINS
Fountains themselves vary widely. They can be small, garden fountains, tucked away and providing a gentle gurgle which gives the outdoor living space a sense of calm. Small fountains can also be placed on tabletops or decks to increase the appeal of these functional spaces. Depending on your style, you can always find a fountain to match. Geometric fountains with straighter edges and defined corners give a more modern look to an outdoor space whereas curvaceous features incorporate the fluid lines that nature provides in a more integrated look.
PONDS
As part of a landscape design, ponds tend to take up more space than a fountain, although this is not always the case. When it comes to ponds, you can choose whether you want it to support fish, which will require a few more steps to ensure that the space is habitable, or you can have a decorative pond. Reflecting pools, for instance, are typically calm and intended to provide a sense of serenity to a space. Water gardens are more integrated into the natural space around them, harboring aquatic plants and plants that love moisture-rich soil along their banks.
WATERFALLS
Waterfalls are a great landscape design choice for anyone seeking the perpetual sound of water. These are typically louder than small garden fountains, so they're good for anyone who wants to kick back, close their eyes, and transport to a relaxing natural oasis. Because waterfalls need a bit of height to function, they add a greater sense of dimension to the outdoor living space, which is especially useful in a small yard.
CREATIVE LANDSCAPE DESIGN WITH FALLAS LANDSCAPES
With Fallas Landscapes, limitations are few. Combining water features allows you to really increase the appeal of your outdoor living space. A waterfall that cascades into a fish pond, for instance, gives your space a real sense of movement and vitality. Streams can be used to weave along walkways, and they present fun opportunities for small bridges. Whatever your desire, chances are that Fallas Landscapes can dream up a landscape design with water features to suit you. With over 20 years of experience in the business, Fallas is a name you can trust.