Outdoor Living Spaces Ideas to Match Your Lifestyle
How Your Personality Influences Your Outdoor Living Space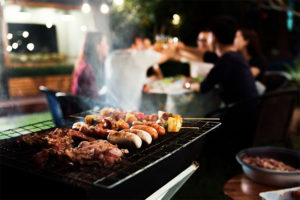 How you choose to customize your outdoor living space from Fallas Landscape depends a lot upon your personality and lifestyle. There are a lot of paths you can choose to follow when designing a living area outside, so it is important to consider your priorities and how you see yourself utilizing the various features that are available. From fireplaces, to kitchen appliances, all the way to bars, Fallas Landscape can provide you with the outdoor amenities you need to epitomize the life you wish to lead. Check out these various outdoor design suggestions that correspond to different styles of living.
THE CHEF
If you love to cook, then implementing an outdoor kitchen into your living space is an absolute necessity. When the weather is nice, there's no reason not to do your favorite hobby outside with mother nature. Simply have us install some kitchen appliances such as a refrigerator, stove, grill and/or a pizza oven into your outdoor living space so that you can whip up your favorite food any time of the day … outside! What more could you ask for?
THE ENTERTAINER
If you love throwing get-togethers, then installing an outdoor bar is the perfect addition to your living space. Be the life of the party as you host gatherings with friends and family on a warm summer evening at the comfort of your house. Our landscaping experts can implement an open layout to your outdoor living space so that you have room to accommodate all you wish to welcome. Top off your entertainment center with some flat-screen TVs and surround-sound speakers to really incorporate the feel of nightlife.
THE RELAXER
For those who just want to sit back, relax and enjoy the serene environment of their outdoor living space, Fallas can provide the landscaping design to fit your lifestyle as well. We suggest incorporating a firepit paired with some outdoor seating to build a peaceful escape from all the stresses of reality. For an even more tranquil habitat, ask for a fence installation to add a layer of privacy to your living area. With all these amenities, you're sure to drift away in your outdoor oasis of relaxation.
CONTACT FALLAS LANDSCAPE FOR ALL YOUR OUTDOOR LIVING SPACE NEEDS
Whichever lifestyle you may identify with, Fallas Landscape has the design essentials for making your vision become a reality. Perhaps you're a mixture of all these personalities and wish to include a variety of aspects into your outdoor living space. No matter what, count on us to be your Dallas landscaper. Contact Fallas at 972-517-5296 for more information or design inquiries.