Best Landscaping Architecture for your Lawn: Gazebos
How Would a Gazebo Compliment your Landscaping Architecture?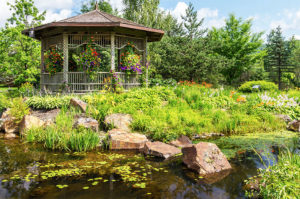 An elegant and well-placed gazebo can turn a typical lawn or garden into a relaxing retreat in a beautiful landscape. Gazebos can create a festive, romantic, or serene atmosphere in a way other landscaping architecture just can't. The mood your gazebo inspires depends wholly on your lawn and what you want to get out of it. Unlike some other landscaping architecture, such as trellises or stonework pathways, a gazebo can tie together an entire lawn, and you need to choose the location and projected ambiance of your gazebo carefully.
BRING YOUR GARDEN TOGETHER
Sometimes the perfect garden is only waiting on one last piece to bring everything together. A latticework gazebo placed centrally between flower beds can turn your garden from a beautiful sight to a wonderful place to sit and relax. No other landscaping architecture allows you to enjoy your garden so intimately while enjoying traditional creature comforts. Consider planting vines to grow up the sides of your gazebo.
ENJOY THE TRANQUIL WATER
Not all gazebos look fantastic in the center of your yard. If you want to add to the beauty of your garden or want to make your gazebo the main attraction, then, by all means, place this grand piece of landscaping architecture front and center. But we often use gazebos to get out of the daily grind from time to time. If you own a pond or your land backs up to another body of water, gazebos make great choices along the water's edge. Nothing beats cuddling on a wicker chair and reading with the sound of trickling water in the background.
PLAY THE HOST
If you love to barbecue or just host outdoor parties, then you might want to make your gazebo the main attraction. A large and beautifully designed gazebo doesn't need a beautiful garden or a tranquil pond to make it a beautiful place to entertain. Add solar-powered lights and lay down a stonework path leading guests to your outdoor party.
ADD A BIT OF ROMANCE
A gazebo can be the perfect place for an outdoor hot tub, dimly lit lights, and setting the romantic mood. You don't need to go far from home to find a bit of peace and special time with the one you love. A screened or perfectly placed gazebo can provide the intimacy you need for a romantic getaway in your own backyard.
LANDSCAPING ARCHITECTURE AT FALLAS LANDSCAPE
No landscaping architecture is too large or too small for Fallas Landscape. From installing a simple trellis to creating a stonework patio and your own outdoor kitchen, we have got you covered. Contact Fallas Landscape for all your lawn maintenance and landscape design needs.