Should You Seed More Rye in the Winter for Perfect Lawn Maintenance?
Lawn Maintenance Strategies: Overseeding Winter Rye Grass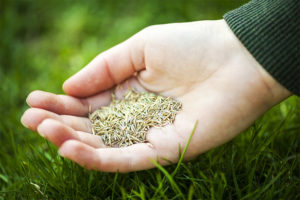 Seasons in Dallas can really wreak havoc on grass, and many people's lawns suffer. Maybe you water and weed properly, but each year you find your grass less lush than you want it to be. Overseeding is a lawn maintenance technique that will keep your lawn looking fantastic next season. The professional lawn maintenance crew at Fallas Landscape can help you overseed your lawn for great results.
WHAT IS OVERSEEDING?
Overseeding is the process of adding seed to already grown grass. Overseeding essentially allows a secondary cover of grass to protect the Bermuda beneath it, allowing your lawn to look full and green in the winter. Instead of tearing out the grass and adding seed to the turned up soil, the process of overseeding adds seed right into the grass. This helps fill in bald or thin spots in the lawn. It is a lawn maintenance technique that keeps the lawn looking lush and full throughout the winter and the heat of the next summer.
WHAT YOU SHOULD KNOW ABOUT OVERSEEDING
Overseeding doesn't work well with certain grasses. You need to scalp grass before adding the seeds, but when you scalp St. Augustine grass, you cut to low on the stem, damaging the stolons. Heavy watering can damage St. Augustine grass. For these reasons, Bermuda grass makes the best grass for overseeding lawn maintenance.
WATER, WATER, WATER
When overseeding your Bermuda grass in the winter, you need to water more than usual. You will need to water your grass at least 3 times a day. This allows germination to take place.
OVERSEED IN SUNNY AREAS
Shady areas often turn slowly into perennial grasses, but the sun allows the overseeded ryegrass to grow in full. This added layer protects the Bermuda grass until the next summer when it can flourish again.
MOW IN THE WINTER
You will need to mow more often and all year round when you overseed. Luckily for you, Fallas Landscape is here to take care of both the seeding and the mowing. We do all the tough lawn maintenance work for you, so you can just sit back and relax.
GET YOUR LAWN MAINTENANCE NEEDS MET AT FALLAS LANDSCAPE
Fallas Landscape can square away all the logistics of overseeding and maintaining your lawn. This is a great way to protect your grass in the winter months and keep your lawn looking nice and full all year round. Contact Fallas Landscape today to get started on all your landscaping needs.