Outdoor Living Spaces: Creating an Outdoor Work Space
Ideas for Outdoor Living Spaces: Outdoor Office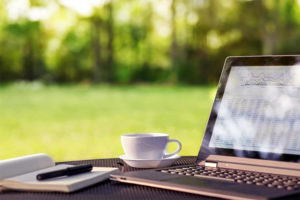 Imagine this: you feel a warm breeze, smell the fresh grass, and hear the birds gently chirping. Are you on vacation? Nope; you're working in your outdoor work space! One of the more creative outdoor living spaces some of our customers have requested in somewhere where they can do work outdoors. An outdoor office is a great way to give you a break from the indoors while inspiring creativity and helping relaxation.
WHERE TO PUT IT
One of the best aspects of an outdoor office is the fact that there's not a ton of infrastructure involved in creating one. An outdoor office can easily be integrated into existing outdoor living spaces, or incorporated into new designs. Ideally, your office space should be located in your backyard. This space will provide you the most quiet, and the least amount of distractions. Also, if you have a patio space or a shaded area, you'll want your workspace to be there. Placing your office in a quiet, distraction-free area will allow you to focus and work for longer periods of time.
WHAT YOU NEED
As far as furniture and other additions, it's just limited to your imagination. The most important thing to have is a flat, roomy surface to work on. You can build a separate desk area, or you can incorporate a seating area in an outdoor kitchen and use that. Another consideration is electricity. You'll want to have your workspace strategically placed to where you have easy access to outlets. A big part of creating ideal outdoor living spaces is creating lots of shade. As we mentioned before, shade is also important for an outdoor office. You won't get unneeded UV rays, and the glare from the sun won't make it hard for you to read your electronic screens. Outdoor living spaces need to be designed in a way that allows you to spend a lot of time there.
CONTACT FALLAS LANDSCAPE ABOUT OUTDOOR LIVING SPACES
At Fallas Landscape, we love to help our customers make their dream outdoor living spaces. We want to make your vision a reality. When you work with Fallas Landscape, you get extreme care and attention to detail. We excel in customer satisfaction and plan to continue doing so for many years to come. Contact us today for more information and for a quote on your outdoor living spaces. We'll be happy to help you design your dream.