Landscape Design for Smaller Yards
Small Yard Landscape Design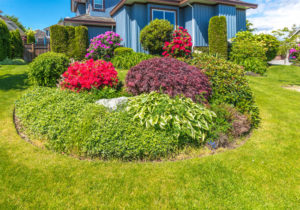 For many people, their backyard is a private getaway that can be accessed from the comfort of their own home. Even if you have a small yard, the right landscape design can make the limited space a beautiful oasis for you and your family. At Fallas Landscape, we have created landscape designs for yards of all different sizes. If you want to make the most of your backyard space, here are a few tips to truly make it a backyard oasis.
REMEMBER THE RULES OF PERSPECTIVE
The right perspective can make your small backyard space seem a lot bigger. Using clean parallel lines in your landscape design is an easy way to visibly lengthen the space, at least to the eye. Use items like pots and furniture to create focal points that further convince the eye that there is more space. Segmented perspective lines will cut up your space and make your already small space look and feel even smaller.
CHOOSE PLANTS THAT WON'T OVERWHELM
Many plants used in landscaping can grow and take over a space. When creating a landscape design for a small space, you should use simple, elegant plants that require minimal pruning and won't continue to grow much in size, overwhelming the area. Dwarf plants and other conifers are excellent options to beautify your small space.
USE VISUAL ILLUSIONS
If parallel lines aren't the feel that you are looking for when creating the landscape design for your backyard, don't worry – you have more options! Another way to make your limited space look bigger is by creating paths in a zigzag pattern through the yard. The zigzag path distracts the eye and makes the space seem larger than it actually is. Raising or lowering paths can also create dimensions in the space, creating more dynamic room.
KEEP IT SIMPLE
One way to make a small space seem even smaller is by cluttering up the area. Keeping your landscape design simple and clean means you will get the most use of your space without feeling crowded.
GET CREATIVE
Creating your own personal oasis in your backyard, regardless of the size of the space, requires a personal touch to really make the space feel like your own. Your specific needs can be met through a bit of creativity when it comes to your landscape design. Things like extra storage, garden space, and more can be made with the help of an experienced landscape design team from Fallas Landscape.
LANDSCAPE DESIGN WITH FALLAS LANDSCAPE
If you are considering turning your small backyard into a personal paradise, Fallas Landscape is here to help! We are experts in outdoor kitchens and outdoor living spaces. For more information on our services, check out the Fallas Landscape website and contact our office to schedule an appointment today. We look forward to working with you!