Landscape Design for Small Yards
Small Yard Landscape Design Ideas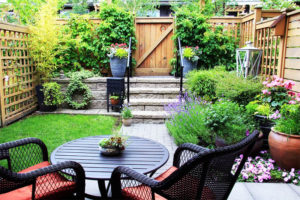 Some people lament their small yards, wishing they had a larger space for hosting summer evening parties or for relaxing after the workday. While it's true that small yards offer less space for grand features such as a pool or an outdoor kitchen, they can become beautiful, relaxing, outdoor living spaces with the help of someone with a skilled eye for landscape design.
There are some basic principles to apply when creating a landscape design for a small yard. Today, the team at Fallas Landscape offers some advice on how to make the most out of small yard landscape design.
LOOK UP!
Adding greater verticality to your small yard is one of the first considerations for good landscape design. The basic idea here is that by adding a sense of height to your space, you can make it seem larger without cluttering it. You can do this by adding tall grasses or a pergola. Using tiered or stair-stepped planters can help, too, by adding the appearance of depth and height while also giving you room for decorative or vegetable plants.
FUNCTION OVER FORM
Another good consideration for making your small yard feel less cramped is to make it as usable and functional of a space as you can. This means using a large table and nice chairs to demonstrate that the space is usable for dinners and parties. Chairs surrounding a fire pit or chiminea work in much the same way. The more function you're able to instill in your outdoor living area, the less you'll have to be concerned about its diminutive size.
KEEP IT TIDY
One of the fastest ways to shrink your already-small yard is to let it become cluttered. The kids may have a habit of not putting away their toys, or maybe you've left out a trowel and some pots from working in the garden. Whatever the case, try to make sure that you tidy up your outdoor living space as much as you can. While this isn't necessarily a tip for landscape design, it does help you get the most out of whatever landscape design you've chosen for your small yard.
SPLURGE A LITTLE
Because you're dealing with a small space, you can use a comparable budget as you might set aside for a larger yard, but simply purchase nicer materials. Again, adding function and appeal to your small space will take some attention away from its size. From a landscape design standpoint, putting a little extra cash to afford nicer stone or wood can make the compromise for a small yard completely worth the trade.
LANDSCAPE DESIGN FROM FALLAS LANDSCAPE
Fallas Landscape has been servicing the landscape design needs for the north Texas area for over 20 years. The Fallas team is certified and licensed, so they have the experience and skill to bring your design to life. For more information, you can reach Fallas Landscape at (972)517-5296
Visit us at https://www.fallaslandscape.com/ and follow us on Facebook.