Fence Installation Advice: What Type of Fence is Right for Me?
Deciding on a Fence Before Fence Installation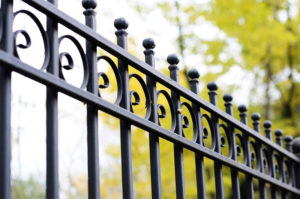 There are many reasons why someone might want a fence in their yard. Once you've decided to build a fence, the next question you have to ask yourself is what kind of fence you should get. Each type of fence offers different benefits, and it comes down to what you need out of your fence and your personal taste. Fence installation is a big undertaking, so make sure you consider all your options carefully.
DO YOU NEED A FENCE?
The first question you should ask yourself before fence installation is, do I need a fence? The two most common reasons to build a fence are for privacy and security. Consider if you need the privacy of a fence, or if your neighbors are far enough away or spaced out enough that strategically placed privacy hedges would do. If your kids are old enough to not wander off, you may not need it for security purposes. If you have a pet, an electric fence might be sufficient. Once you've determined that a fence is the way to go for your needs, then you can move on to what material you want to use.
WOOD
The most common choice for fence material is wood. Wood offers privacy and is affordable compared to some other options. It's also aesthetically pleasing, and can easily blend with the natural tones of the rest of your yard. Also, wood lasts a very long time. Different woods require different levels of maintenance, so keep this in mind when making your fence installation plans.
WROUGHT IRON
Wrought iron is a common option for homeowners who want to fence in areas of their yard but want it to be ornate at the same time. Wrought iron gives a unique and beautiful flourish to the design of your home and yard. Wrought iron isn't especially practical for security and privacy purposes, but it is extremely compelling and aesthetically pleasing. You should also keep in mind the fact that wrought iron is the most expensive option as well as one of the hardest to maintain.
BAMBOO
Similar to the wood option, bamboo is perfect for matching the natural tones and palettes of your landscape design. Bamboo is great for privacy as well. One of the most common reasons people choose bamboo fence installation is the fact that it's environmentally friendly. Keep in mind that bamboo does grow extremely fast and needs upkeep to prevent it from becoming invasive.
CONTACT THE FENCE INSTALLATION EXPERTS
Fallas Landscape specializes in more than just landscape design and maintenance, we also provide fence installation services. We can help you choose the fence material that best meets your needs and design it to fit with the flow of your yard. Contact us today for a free fence installation quote.