Springtime has arrived. The blossoms and greens are budding. You can smell spring in the air. The birds are chirping more. It is a wonderful time of year in Northern Texas. Because of the milder temperatures of North Texas, we see some amazing flowers much earlier than they do in the Northern areas of the United States.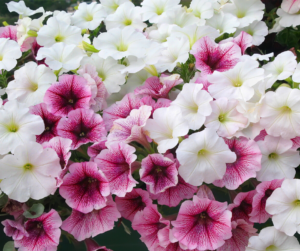 For example. Dianthus is a cool-season annual, meaning that it needs to be planted from seed every year in order to grow. An annual plant is not a plant that will come back year after year but one that will need to be replanted the following season. The dianthus is this type of plant and it grows here in North Texas November through April. The flowers of the Dianthus come in both white and lavender in color. They grow to be about 12 inches tall/wide and should be watered every couple of days in well-drained soil.
Alyssum
Alyssum is another great plant for the spring in Northern Texas. These make a great ground cover and cover the entire area with tiny fragrant flowers. This tiny flowering plant doesn't last long in the summer sun.  So, be sure that you enjoy it while you can. As it typically will not last past May.  It is a short plant that only grows about 3-4 inches high but spreads out around 12 inches. It too requires watering every couple of days.
Geranium
Geraniums are enjoyed throughout the country. But, here in Northern Texas, we get to enjoy them from February to May. Typically, they cannot survive the Texas heat past May. They are beautiful to grow in pots and keep on your porch. They come in both an upright and vine-like form. They come in a variety of colors from red, pink, and even white. The do require watering every couple of days. These are wonderful to watch the hummingbirds and butterflies at. They thrive in full or partial sun.
Petunia
Petunias come in all sorts of different colors and color combinations. They are one of the more popular flowers for the spring and make beautiful flower beds. If you love to have a flower bed full of flowers at all times, then the petunia is right for you.  They can be a mounding form, meaning they are a floral-like small bush or you can get them in a vine-like form. These can be combined into pots for some beautiful flora displays.  They can start to bloom in February but will continue even into June.  They are a very hearty flower.
Gerbera Daisy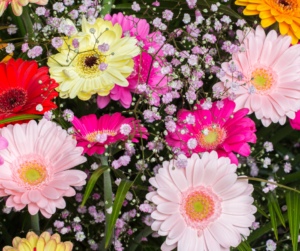 Gerbera Daisy has a very brightly colored flower or can also come in white.  These flowers make amazing bouquets to bring inside.  These are grown throughout the world and are the most popular flower to make into bouquets.  They will quite often grow to 12 inches tall and enjoy the partial sun with watering every couple of days.  You will find that they grow the best from March to May here in Northern Texas.  Once the heat is turned up, they don't do as well.
For all your flower and landscape needs Fallas Landscape.