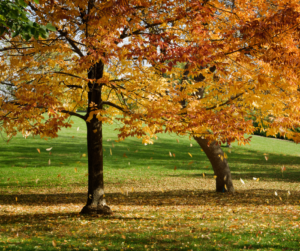 Your fall lawn care is just as important as your spring and summer lawn care.  You need to have year-round care here in Texas in order to have a healthy lawn year-round.  During the fall, you should fertilize your lawn so that it can be ready to go come spring.  Fall fertilization will help thicken the lawn to help it resist those pesky winter weeds.  Your fall fertilizer should be lower in phosphorus and higher in potassium and nitrogen.  This type of fertilizer has proven to yield better results for lawns.
While our lawns go dormant during the winter months, they are still living things that need to have proper watering.  Keeping your lawn watered is important for it to be able to make a healthy comeback in the spring.  If we have a dry spell from the rain, then you should irrigate it with sprinklers.  Furthermore, if the lawn is wet, it is more resistant to a hard freeze.  So, if you see that we are getting a freeze, then watering the lawn will save your grass.  This is because it is harder to freeze wet soil than it is dry.
Fall fertilizer and weed control
While many of us aren't thinking about winter in September.  This actually is the perfect time to prepare your lawn for Texas winters.  There are specialized fertilizers that offer a slow-release. This will allow the lawn to get the nutrients it needs to come back strong and healthy in the spring.  This is also the time to put down a layer of chemicals to help control the weeds.  Weeds germinate in the spring; certain herbicides will stop this from happening.  This allows your grass to grow in but not the weeds.
It depends on what type of weeds your lawn is prone to get.  If you get grassy type weeds then you need to use chemicals such as Team, Amaze, or Balan. However, if you seem to get more of the broadleaf weeds, then Gallery is a good choice.  This can be a bit confusing which is why it is important that you hire a professional to keep your lawn looking its absolute best.
While you are preparing your lawn for the winter, you should continue the continued care of it such as clipping and weeding.  The lawn will eventually go dormant, however, until that time it will need to be maintained properly.  This allows the lawn to have a thick root system that can feed the grass over the winter.
Soil aeration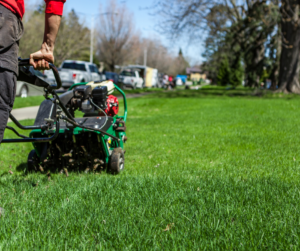 Soil aeration is something that many people choose to do in the fall for their lawn.  This puts small holes in the lawn that allows the roots to get better water, oxygen, and fertilizer for better growth.  Since we put fall fertilizer on the lawn, this is the perfect time for aeration.
Be sure that you rake the leaves from your lawn.  Leaves left on the lawn can cause the grass to die underneath.  It can also cause fungal and other diseases to set in.
For all your fall lawn care go to Fallas Landscape