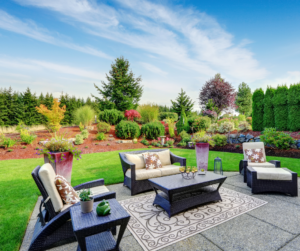 Experiencing the appeal of the American Southwest in your own backyard can take you to a world of natural beauty, incredible hues, and rich cultural heritage. Designing a Southwest-inspired environment combines desert warmth, red rock majesty, and adobe elegance. Step into a world where terracotta hues and Native American influences come together.
Discover the essence of the American Southwest with Fallas Landscape Ltd. From landscape design to outdoor kitchens, fence construction, and more, we bring your vision to life. Read on for fascinating Southwest-inspired landscape ideas, and let us create your dream outdoor haven. Trust Fallas Landscape Ltd. for a captivating landscape that stands out.
Let's take a look at some of our favorite ideas for creating an authentic Southwestern look in your own garden, regardless of whether you reside in the Southwest or another dry desert region.
What Does a Southwest Landscape Look Like?
To create an authentic and beautiful landscape design with a Southwest influence, you'll need to include several natural elements. They should contain brilliant hues and have a rustic charm. Here is a quick rundown of the elements that can help recreate the splendor of the American Southwest:
Patio: Patio areas play a significant role in this design aesthetic. Particularly in regions where the summers are extremely hot, a shaded location is essential. Most patios offer a sizable, shaded entertainment space that extends your home's living area.
Terracing: Terracing is recommended in areas with sloping terrain. Building components like stone, boulders, or railroad ties can be used to enhance Southwestern building design.
Dry creek bed: A great way to portray water in your southwest landscape is with a dry creek bed. When laying river rock, different sized stones and boulders can be mixed in, and the borders can be surrounded by natural, drought-tolerant plants.
Lawns: Lawns are typically not incorporated into a southwest garden unless the homeowner has children or pets who require open play space. But then again, some people simply love the aesthetic of turf in their designs. You can create a small area with a drought-tolerant turf species or use artificial turf instead.
Colorful paintings: Colorful native and woody plantings are excellent for a southwest plant palette. Flowering bushes that attract birds and other wildlife complement the desert-colored hardscape material well.
Lighting: Lighting is essential for displaying the charm of the Southwest style at night. Accent lighting draws attention to the color, shape, and native plants in your environment.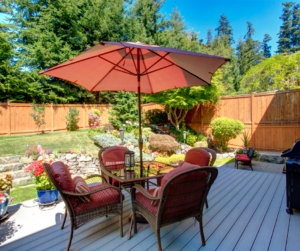 Increase the comfort of your house by adding a large covered patio with hanging plants, potted plants, wall décor, and colorful accessories. Exercise moderation when adding water, as Southwest landscapes produce significant impacts with minimum water usage. An easy way to incorporate water elements into your landscape design is by using birdbaths and water fountains.
In general, a properly designed Southwest landscape emphasizes the preservation of limited natural resources. In essence, you produce a special landscape plan that blends a special rustic appeal with practical water-saving features. It's no surprise that Southwest landscapes are becoming more common in residential settings!
Southwest-Inspired Landscape Ideas
Southwest landscapes deserve the same meticulous attention to detail as your home's interior. From well-trimmed front lawns to stone-paved walkways and intricate landscape designs, every element contributes to the overall beauty.
By selecting suitable plants, flowers, and bushes, you can greatly enhance your curb appeal by introducing vibrant colors, pleasing textures, and even delightful scents to your yard. With well-executed landscaping ideas, your home's appearance can be completely transformed, leaving a lasting impression.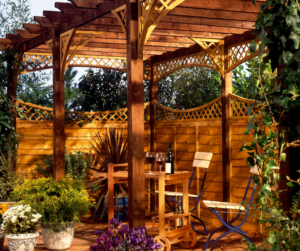 Prior to commencing your new landscape design, it is crucial to dedicate time to thoroughly assess your region. While making notes, make detailed observations. Also familiarize yourself with the climate, financial considerations, and available space. This foundation is paramount as it lays the groundwork for envisioning and implementing diverse landscape decorating ideas effectively.
As you're reviewing various Southwestern landscape ideas and pictures, make notes about the designs and landscapes that really jump out at you. Also, keep in mind what level of maintenance makes sense for your situation.
A sizable rose or vegetable garden is a great use of space if you enjoy working with plants. If you live in a hot or dry climate, think about drought-tolerant landscaping ideas. If you have young children, think about how a big grassy area, a playground, a swing set, or a pool might be fun for them as well.
Consider what your family would utilize most and what would ultimately increase your home's market value. Last but not least, keep in mind that the front and backyard are independent areas with quite different functions when it comes to landscaping.
What Plants to Include in Your Southwestern Garden
Consider curb appeal above everything else while looking at landscape photographs; southwestern landscape designs are your chance to make a good first impression. A flower garden is a great option, but if you're worried about upkeep, choose low-maintenance succulents, bushes, or hedges instead.
If you don't have a green thumb, consider grass, gravel walkways, water features, sculptures, wood fences, or stone walls as inexpensive and easy-to-implement landscape design ideas.
Elements to Include in a Southwest Garden or Backyard
While landscapes are usually regarded as an aesthetic component, you may combine utilitarian elements into your southwestern landscape design to make it as functional as feasible. With seating, dining rooms, play areas, and sunny relaxing locations, the garden can be created for entertaining and fun.
Enhancing your yard with a vegetable or flower garden is a popular choice, particularly when complemented by captivating elements like a pergola, arbor, pathway, or fence.
For captivating landscape design ideas, consider incorporating intriguing accessories like bird baths and feeders. To create the ultimate entertainment space, include a pool and patio, or opt for a deck complete with a fire pit, outdoor fireplace, barbeque, or outdoor kitchen.
If you have an active family that enjoys sports, consider installing a basketball or volleyball court, along with a bocce ball or croquet area. And let's not forget about the furnishings! A garden bench provides a tranquil spot for reading or meditation, while weatherproof chaise lounges, sofas, and chairs offer relaxation on sunny days.
Contact Fallas Landscape Ltd
Whether you're looking to revamp your existing landscape or create a brand new design, Fallas Landscape Ltd. has the knowledge and skills to bring your vision to life. Contact Fallas Landscape Ltd. today to explore more landscaping ideas and embark on your journey towards a stunning outdoor environment.