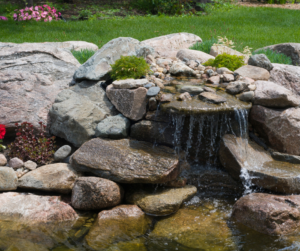 What are some creative ways to use rock and stone for landscaping? This is a question that many people have asked themselves. They can be used in all different kinds of ways when it comes to landscaping, and we will explore some great examples of how you can use them in your yard!
A popular choice is using large stones as the focal point in an outdoor space. The best way to do this is by choosing one color or shape, placing them strategically around the area, then adding smaller pebbles on top.
What creative ways can you use stone for landscaping?
– Can be used as focal points
– Large ones around gardens make an excellent addition
– Pebbles on top of larger, heavier ones give a sense of lightness to any space
How To Landscape with Rocks and Stones
They are a great way to landscape. They can be used as focal points used around gardens, and they make an excellent addition to any outside patio area.
Large rocks around gardens make great borders and can keep weeds from growing with your flowers and plants, while lighter small stones give off lightness and a sense of whimsical decor to any space.
Rocks can be used as focal points for landscapes or surround entire areas with their grandeur. They offer the best value in landscaping because of how affordable they are and how versatile they are due to all the different sizes and shapes available on the market today.
Rocks come in many colors, such as reds, yellows, browns, so there is always something that will match your style and preferences.
This is a great way to use stone in your yard because it gives you more variety than if all the stones were uniform. It also allows you to play with colors!
If there's a specific mood that you want to create through your landscaping, try using matching tones throughout different areas of the space.
For example, by adding dark green mossy-looking rocks next to light blue ones, they might look like two different lakes at sunset!
Finally, don't be afraid to mix up the size and shapes. Large, heavy ones can turn a space into something light-hearted and fun, while smaller ones may feel more tranquil or even mysterious.
Types of Landscaping Stones to Use
You can use many types for your landscaping, but just as with the rock sizes, it's important to think about how each will impact the overall look.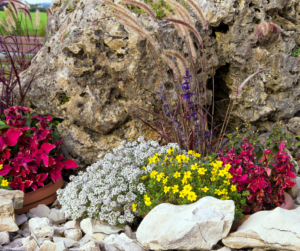 For example:
– If you're looking for a more refined, elegant feel to your landscaping, consider using material such as marble or granite.
– For an organic feeling that blends well with nature's style, try material like limestone and slate.
– To keep it simple (and maybe save some money), use smaller stones and pebbles like sandstone or quartzite.
Crystal
These have a sleek and polished finish which is perfect if you want something that feels modern, like an office building. They're also great if you want some sparkle in your design!
Boulders
Boulders give any space a feeling of weightiness without being too overwhelming, so they might be a good idea if there's no room on your property for very large trees. If bouldering doesn't suit what you need from stone, then there are many more options.
Tips on Using Rocks and Stones in Design
In landscaping, they can serve many different purposes and styles. You can build a border around a garden or ponds, make a rock garden, create an outdoor seat with benches and stone walls.
Steppingstones are another stone option that would be great to make a path.
Stones can also serve as a decorative element for your home! They're easy enough to add onto the front of the house, behind trees, or even under windows where you want some extra color and texture.
The possibilities are endless for stone and rock landscaping, so here are some ideas to get you started!
Fire Pit Landscaping
Lastly, fire pits make excellent decorations both indoors and out when paired with some decorative rocks. It's nice having something extra to look at when it comes out of winter.
Border Landscaping
You can frame an area with stones or create a border around the edge of your yard or garden bed. Borders come in all shapes and sizes, but most importantly, they add a decorative touch that will make any project more aesthetically pleasing from both inside and outside perspectives.
Gardeners will also find borders effective for separating different types of plants such as vegetables vs. flowers, which could be beneficial if you have limited space available on your property.
Pathways
The material used for pathways is usually not too expensive considering how much land there is outdoors these days.
Rock and stone landscaping is a popular choice for many people because it offers so many beautiful options. You can use them as borders or create walls, benches, and steps. Stones are great for adding texture outside your home in the front, backyard, and on walks where you want that extra color.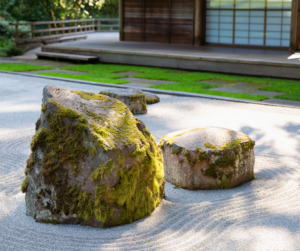 Rock and stone landscaping can be very creative, whatever you need it for – large boulders to create privacy around the house, building a rock wall that will look like part of an old castle, or creating some color with sandstone rocks!
They are also great because they're durable, so if you want something low-maintenance, then this is the perfect option! You'll never have to worry about weeds ruining your garden and changing the patterns, which means less upkeep on your end.
Using stones and rocks in your landscaping can be a wonderful way to wake up a garden design. You can create many different settings, including fire pits, pathways, and borders. Rock landscaping is a simple way to add more beauty to your outdoor spaces.
Check out all of our landscape services and lawn care.