The summer heat of Texas is hard on anyone and anything.  But, we love to have flowers like all the other states.  So, we took a minute to do some research and find out just what is the best flowers for TX summer heat.
Henry Duelberg Salvia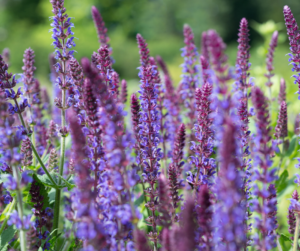 Do you like hummingbirds?  Well, this is the flower for you!  This is a native to Texas plant that is easy to grow and offers beautiful deep purple flowers that bloom over and over again.  All you must do is cut them back after the flowers are over and watch them bloom again.  They are about 2-3-foot-tall and very drought tolerant too.  They do not like to have wet roots, so they are perfect for the dry summer of Texas.
Hinckley Columbine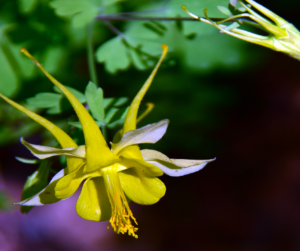 While Hinckley Columbine is a native Texas plant it is very rare to find it in the wild.  However, it is a beautiful plant to add to your Texas garden and sports nice fern-like greens with light yellow flowers.  This plant doesn't flower or last long, however, it will reseed itself and come back again and again.  It typically reaches 2-3 feet tall and prefers drained soil and some shade from time to time.
Lacy Oak
Lacy Oak is an oak tree that is perfect for gardens as it doesn't grow as tall as what a normal Oak would grow.  This Texas native only grows to 25-35 feet, making it perfect as a garden addition.  It is the perfect shade tree and has leaves that are similar to white oak.  Lacy Oak is best in Hill country and western Texas where there are cultivated settings.  It is highly tolerant of the heat as well as drought resilient.
Turk's Cap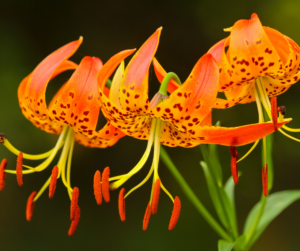 Turk's Cap looks like small turbans as a red flower that never fully blooms.  It is another native to Texas plant that is best in Southern Texas.  It will bloom in a few color options from red, pink, and white.  They too are a favorite among hummingbirds and even butterflies too.  If you like to have a lively garden, Turk's Cap is a great addition.  It prefers shady areas and grows in a shrub.  It is drought tolerant but wouldn't do well in the Northern areas but could be used as an annual.
Lord Baltimore Hibiscus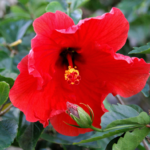 Lord Baltimore Hibiscus is simply stunning.  This native Texas plant produces HUGE flowers.  These flowers are in fact these flowers are scarlet red and 10″ wide.  That's a huge flower.  They are constantly flowering from July to about Sept. and make great borders or survive well in decorative pots too.  Of course, the hummingbirds and butterflies cannot resist these beautiful beasts and will be visiting often.  This plant is all about having wet roots and usually does well by a pond or something that keeps the soil moist.
Mystic Spires Blue Salvia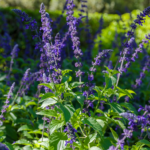 Mystic Spires Blue Salvia is a beautiful ground cover that is native to Texas.  It is tolerant of the heat and humidity and is rarely bothered by disease or pests.  If you have a deer problem, this is the plant for you, as they don't necessarily like it at all.  Beautiful blooms of small deep blue-purple will spread throughout the dense leaves.  If you like a no-fuss garden, this is the plant for you.  They do not want a lot of fertilizer and water and too much could kill them.