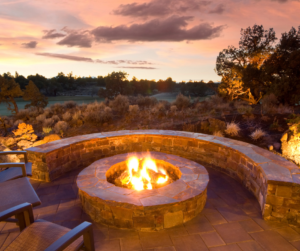 When you are a person that loves to entertain, you simply need things that you can enjoy with your guests. A fire pit is one of those things that many people take comfort in year around. While some people might think that a fire pit is seasonal, it is the contrary.  You can enjoy a fire pit just about any time of year.  The crackling of the fire and dancing of the flames some find memorizing which lifts the stressors of the day.
Let's take a look at some of the other benefits of having a fire pit in your backyard.
Firepits are Affordable
Firepits are affordable.  Honestly, you can have a fire pit that is simply a hole in the ground.  However, we have made them lush and inviting with brick and stones.  These pits can be made from all kinds of different materials which are utilized to help contain the flames and give the pit a unique look.  However, you can simply use a metal ring to contain the flames, or again, simply dig a hole in the ground to ensure that your fire stays contained.
Adds Value to a Home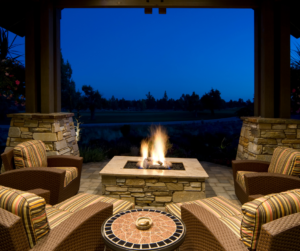 While a hole in the ground is probably not going to add a lot of value to the home, if you take your fire pit to the next level, you might see a healthy return on your investment. Many people love a good fire pit that is well made.  These can require little maintenance but can bring hours of joy.
You can even make a firepit table that can be a focal point of your outdoor space.
Super Safe
A fire pit, when designed and used properly is very safe.  They can be made to burn propane, wood, or natural gas and there are a variety of containers to use.  But, most of them are very safe to use, unlike what most believe.
They Can Serve as Fantastic Kitchens
Cooking outdoors is a wonderful experience and the food always tastes amazing. Not to mention you will have very little clean-up. There are many recipes that are made to cook over an open flame and these can be so so good.  Many campers and hikers enjoy cooking over their wood burn pit and you can enjoy those same flavors at home.
Provide a Romantic Ambiance
The view of a crackling fire is very peaceful and romantic.  While a fire pit is great for a group setting, it is also nice for a one-on-one setting.  Firepits provide a relaxing environment and set the mood for meaningful conversations.
A Fire Pit is Very Versatile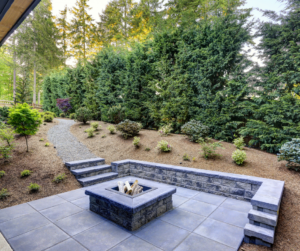 If you haven't noticed all the benefits listed above, a fire pit is very versatile. It can be used for a large gathering to enjoy the heat and have some roasted marshmallows to be the background setting for a romantic date.  It can be used as a heat source or used as a cooking source.   There are many ways to have a fire pit burn such as with natural wood, gas, or propane that can be contained in a variety of ways.
If you are thinking about putting in a fire pit, take your time to research your options and decide what is the best fit for your circumstances.  Fire pits are great for a variety of reasons as stated above and more.
For more information about Fire Pit ideas or any landscaping needs visit us at FallasLandscape.com