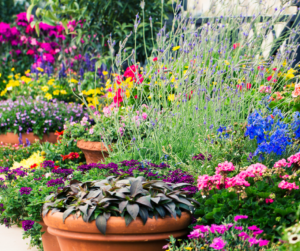 Want to give your pots a little makeover? It's a fantastic way to breathe some life into those containers that might have looked a bit dull with the same old evergreen plants during the gray months. Don't worry; we've got your back!
Whether you've got a clear vision of what you want, or you could use a bit of design help, we're here for you. Our goal is to add that perfect touch of seasonal vibrancy to your outdoor space. Let's work together to make your pots pop with fresh colors and bring a whole new vibe to your garden!
Ready to add depth and seasonal interest to your garden? Contact Fallas Landscape Ltd. today at 1-972-517-5296 and let's get started!
Spruce up Your Garden with Clever Container Placement!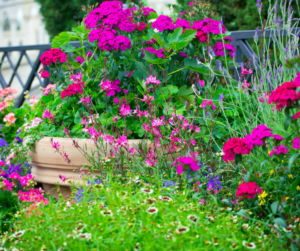 Containers are commonly found on porches and patios, but who says they have to be limited to those spots? These versatile plant holders can be a great design tool for your garden. Need some inspiration? Here are seven design ideas to get you started.
Break up your plant beds and borders: Use containers to add a height to flat plantings or liven up groundcover. Grasses, shrubs, and perennials like Lydia Tecoma lift the garden skyward. Tailor plant material to your needs. Try Delta Fusion Crapemyrtle for an accent or focal point, and Jubilation Gardenia for a calming pause.
Grow it, then eat it: Modern cultivars have made it possible for everyone to enjoy fresh fruits, regardless of whether you have a garden or not. Thanks to container-friendly plants like 'Little Miss Figgy' Dwarf Fig and Takes the Cake Rabbiteye Blueberry, you can now grow fruits right on your patio!
Define the space: Create space with containerized shrubs! Use potted 'Scarlet's Peak' for a living wall or group containers at the corners of a garden room. Choose low or tall shrubs to define walls for privacy or open views. Try Low Rider Holly or Baby Gem Boxwood for a stylish touch.
Hide-and-seek style: Containers are versatile in your landscape. Use them as screens to hide eyesores like gas meters or well-heads, while still allowing easy access for maintenance. Alternatively, use containers to frame and enhance beautiful views in your landscape and neighboring properties.
Dressing it up: Containers add needed color to challenging spots. Try 'Angyo Star' Fatshedera and Purple Pixie Dwarf Weeping Loropetalum at the base of trees. For your side-yard and fence-lines, go for 'Maui Punch' Canna and Ever Sapphire Agapanthus. Instant vibrancy!
Mix 'n match: Containers offer freedom for personalizing your garden. Mix plants with diverse needs into one composition, ensuring prope fertilization, and watering. Try combining architectural plants like Skyscraper Senecio with 'Black Ripple' Colocasia for an exciting mix. Let your creativity thrive!
Set up new arrangements: Containers are easily movable and perfect for practicing design. Start with different-sized containers grouped in odd numbers (three or five), and play with textures and plant forms like 'Poquito' Banana and Design-A-Line Cordyline. Get creative and have fun!
Call Fallas Landcape Today!
Containers are perfect for practicing design. Mix and match textures and plant forms to create your unique arrangements. Need landscaping help? Contact Fallas Landscape to bring your garden dreams to life!
Landscape Design | Fallas Landscape LTD | Lawn Care and Maintenance
Average rating:
0 reviews