Including a walkway in your landscape design is one of the best ways to improve the aesthetics and functionality of your home. They can be utilized to show a clear path to your front door or just connect different regions of your property.
Installing a pathway would enable you and your guests to take in the breathtaking scenery in your yard, especially if you have a large lawn or a professionally landscaped yard.
Let's take a look at seven different types of walkways that you can add to your landscape design.
Fallas Landscape. is a family-owned and operated business in Dallas, Texas. We specialize in landscape design, installation, and maintenance services for both residential and commercial clients. Our team is made up of experienced professionals who are well-versed in all facets of landscape design and installation.
We provide a variety of design services, such as outdoor kitchens, living spaces, fencing, and more. So, if you're in Dallas or neighboring areas, including Plano, Allen, Frisco, McKinney, and Lucas, get in touch with our team!
The Benefits of Having a Walkway in Your Home
Adding a walkway to your landscape design can sound like an unnecessary investment. But the truth is, there are many ways to beautify your landscape without breaking the bank. In addition, a properly installed walkway can provide you with the following benefits:
Improves your landscape design: It makes your outdoor space appear clearer and more organized by making it easier to identify all the different areas and corners in your landscape.
Improves safety: Walkways provide a more secure and easy path to walk on, especially when carrying groceries, when there are children or the elderly around, or when the weather is inclement.
Increase the curb appeal of your home: Hardscapes like walkways that enhance the visual appeal and functionality of your home may help raise its market value.
7 Great Walkway Options for Your Home
Flagstone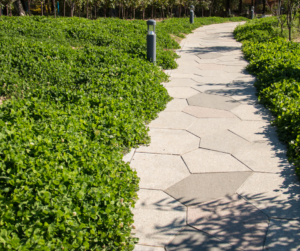 Walkways can be constructed using a variety of materials and in any shape. Check out some of our top walkway ideas so you can make the right decision.
Flagstone walkways are visually appealing and provide a higher level of safety due to their textured, non-slip surface. They're also the perfect size for walkways and easy stepping stones. They also produce a permeable walking surface that absorbs water when dry.
To lessen the risk of accidents that can result from uneven stones, it is crucial that the flagstones be set properly by professionals. To make sure you receive all the benefits of having a flagstone walkway on your property, get in touch with our team.
Brick Walkways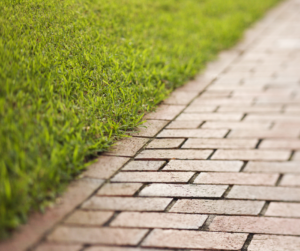 Bricks come in various colors, shapes, patterns, and sizes. As a result, they are a flexible material, allowing you to use your imagination to design an aesthetically beautiful addition to your home. Better yet, an attractive and practical brick walkway can potentially raise the value of your home.
Using interlocking brick pavers for your walkway is an extremely cost-effective, long-term solution. Bricks are not only more durable than nearly any other material now available, but they also require less upkeep.
Gravel Walkways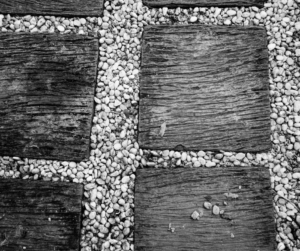 Gravel walkways are a low-cost solution that can accommodate most budgets. They are also simple to install and require little to no maintenance. This makes them an appealing option for individuals who wish to enjoy their landscape without continuously tending to it.
For people who prefer a more organic and rustic aesthetic, installing a gravel walkway is a no-brainer for their outdoor space. Finally, the gravel's texture provides slip resistance, making it a safe option for walking even in wet weather.
Concrete Walkways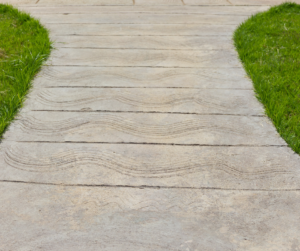 Using concrete for your next landscaping project has multiple benefits, particularly for walkways. Concrete sidewalks are more cost-effective than alternative materials like pavers or natural stone. In addition, they are an excellent choice for improving curb appeal and providing a non-slip surface.
Concrete walkways are a long-lasting solution that can handle strong foot activity, making them a perfect choice for busy outdoor areas. Concrete comes in a variety of colors, textures, and treatment possibilities, making it a highly customizable material. Additionally, they are a low-maintenance choice, requiring only sporadic cleaning to keep them looking good.
Wood Walkways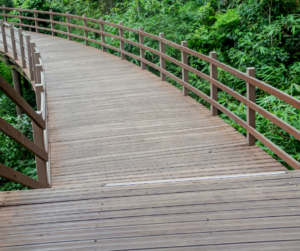 When it comes to creating a rustic walkway theme, wood is the go-to material. Wood provides unrivaled warmth, charm, and overall coziness! They are also less expensive than other conventional walkway materials.
Because wooden walkways do not corrode or rot, they require surprisingly little maintenance. They're also quite simple to clean! Wooden paths are ideal for use in virtually any garden setting, regardless of topography. A carefully constructed wooden pathway will look elegant and natural in your landscape, adding character and value.
Stepping Stone Walkways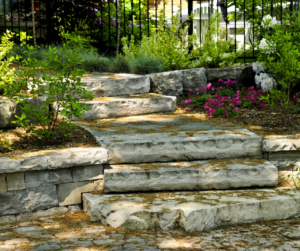 Steppingstones can be arranged in a very structured and formal style to give your landscape an elegant edge. You can also spread them out to create a more casual and easy-going look. They make a lovely addition to any garden or outdoor space and may be used to complement any design style.
Steppingstones are easy to install in a variety of locations, including over water. However, it is crucial to consider where they are laid and what will be placed around them—for example, pebbles vs. grass. Make sure you hire a professional to get the job done perfectly the first time.
Granite Walkways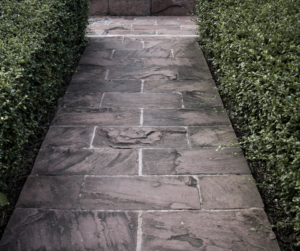 Granite is an igneous rock that is easily identified by its grainy, rough appearance. Granite pavers are durable and designed for long-term sustainability due to their durability and low maintenance requirements.
Grays, pinks, and a range from charcoal to black create areas of natural appeal within the granite itself. The variety of colors also gives granite life and character. You can choose from smooth or rough surfaces, as well as a finish most suited to outdoor applications with natural built-in safety measures.
Get in Touch With Fallas Landscape Design Today
Our team of professionals at Fallas Landscape can design and install a walkway for your landscape design. With years of experience and skill, our staff can provide tailored and high-quality service to assist you in designing the ideal walkway for your outdoor space.
Contact Fallas Landscape Ltd. today to arrange a consultation and begin the process of transforming your landscape design.