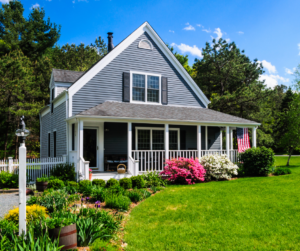 Springtime blooms are a great way to liven up your yard with beautiful flowers that are made for Texas. In Texas, several lovely spring annuals may provide a splash of color and interest to your yard if they're installed correctly. However, other things can make your yard look stunning as well.
Spring improvements are a service that Falla's Landscape LTD customers commonly add to their regular property maintenance routines list. A skilled landscape professional can use these strategies to help you get the most bang for your budget. Here are a few of our greatest recommendations.
1. Mulching Will Refresh Your Plant Beds in Time for Spring
While many spring landscaping recommendations focus on flowers because that's what most homeowners are thinking about, don't forget to add a fresh layer of mulch to your plant beds after you've planted those spring annuals. Mulch looks great and creates a new canvas. It also has the added benefit of helping to insulate and retain moisture for your plants' roots. Mulch also helps to discourage weeds, which helps to keep your plant beds looking their best.
2. Color Schemes, Layout, and Spacing are Important
It's easy to get caught up in the beauty of your choices when there are so many springtime color options. You naturally go toward the flowers that you think are the most attractive. However, you must consider other factors, such as where each plant will perform best on your property. Planting shade annuals in a full-sun region, for example, is not a good idea. Another example is planting annuals that require full sun in an area where the sun is blocked by trees, which also is not a good idea. This is where having professionals can really help!
3. General Landscaping Spring Maintenance
Spring can be one of the most beautiful times of the year, and you obviously want to take full advantage of all the gorgeous blooms that can help make your property stand out from the rest. But to have the best-looking property on the block, you want more than average seasonal installation work.
Among the various important services in the spring, we like to point out that spring is a great time for ornamental tree pruning and trimming. New plant growth will benefit from prunings and will quickly fill in the spaces you cut back.
Be sure that those spring annuals stay watered by checking in on your sprinkler systems.  We also tell homeowners that this is an excellent time to ensure that their irrigation systems are in good working order. 
4. Add Spring Annual Container Gardens to Your Property
Container gardens are another fantastic way to add spring beauty to your garden. If you don't have access to an actual garden, the next best thing is a container garden. These can be used to liven up sections of your garden. Containers, for example, are ideal for front patios, pool areas, decks, front porches, and other areas that are covered with brick or concrete. 
Many of the homeowners with whom we work adore spring flowers and want a mix of container gardens and plant beds to maximize their enjoyment and curb appeal.
Choosing Spring Landscaping Enhancements Wisely
Are you ready to have a genuinely stunning Texas yard complete with lovely spring landscaping? Request a free quote from Fallas Landscape LTD today! Let's discuss regular maintenance and floral upgrades that would most benefit your particular property.  Call 972-517-5296.